Welcome
Holiday farmhouse Škvor: Relaxing holiday between pastures viewing Alps in the still undiscovered part of one of the most beautiful destinations in Europe – Julian Alps – Soča river valley - Slovenia!
You are welcome to stay at one of our traditional, recently renovated guesthouses. The spacious houses, decorated with tastefully combined traditional and modern elements, allow for complete privacy. Add the remote location of the village itself – and you get a holiday that is different from anything you have ever experienced.
Children are free to run around safely while they parents barbecue delicious meals on the garden grill. One of the distinct features of our farmhouse is a large vegetable garden that we love to share with our guests. During your stay, you are warmly welcome to pick anything you like - all vegetables are completely organic and additive-free.
Experience authentic farmlife - feed the chickens and the goats and try some free-range organic eggs and milk. We are also happy to cook for you something traditional or try some of your local specialties.
At the Robidišče holiday home we are proud to have gained the Travelife Gold international sustainability certificate and sign Slovenia Green Accommodation.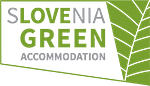 The Škvor homestead represents a family story that we have been building for decades. With vision and effort, we gave new life into the old stone houses. We offer our guests a relaxing holiday in nature, overlooking the mountain pastures and the Alps, between the Soča valley and Veneto.
We will continue to respect the environment, tradition, cultural heritage, take care of the sustainable development of tourism and connect with the local environment for the benefit of the village community Robidišče. Our commitment to the environment has always been part of our family values. The gold Travelife certificate is also a recognition of our efforts for a better tomorrow in the field of tourism in the Soča Valley, Breginjski Kot.
Beautiful, quiet and lovely

The hosts are amazing, very nice people. The nature is beautiful and the houses are cosy. We spent two summers in their farmhouses and always had a great time. The children especially appreciate the village life and the animals around. And for adults the garden and the space is very calming. Lovely getaway.

Erwin, Netherlands